Your Society
Your Vote
Your Future
< Back to the AGM 2022
Chief Executive Officer's Review of 2021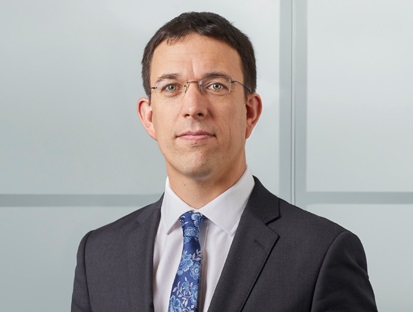 Richard Fearon shares his thoughts and reflects on the past 12 months.
After another challenging but successful year for the Society, I wanted to give an insight into the last 12 months and look back at some of our 2021 highlights.
How do you reflect on the year the Society has had?
2021 was a real landmark year for the Society and I'm very proud of our performance and our colleagues.
We gave record levels of support to first time buyers and the housing market in general, we supported savers and we invested in our future as an organisation.
We showed some real leadership in the green finance space as well as with our own efforts to reduce the Society's impact on the environment.
Colleagues and members have done a fantastic job raising £380,000 so far for Dementia UK and supporting local communities.
Plus, we stayed focused on all our members' needs throughout the year, which is something we must never lose sight of, regardless of what else is going on around us.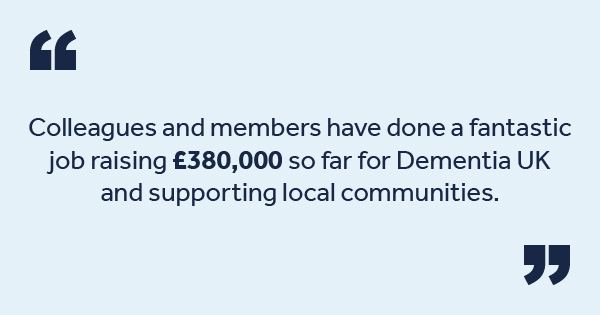 What were the biggest challenges for you in 2021?
The biggest challenges obviously related to the pandemic and all the changing restrictions we had to adapt to.
Balancing keeping colleagues safe but also making sure we provided the essential services we offer our members was our biggest challenge, and it was tricky. I hope we got that right. Colleagues and members have told us we did, but it wasn't always easy.
We also saw record volumes in terms of mortgages, and working in a hybrid world we had to manage real surges of demand at times. But the team came together brilliantly, and I think we succeeded in delivering positive results people should be proud of.
We supported mortgage members throughout 2021 – why is this important to you?
In 2021 we tried to support our members on all fronts, and that's extremely important because ultimately, we're a member-owned organisation with a clear purpose.
That purpose is all about putting home ownership within reach of more people. One way we did that was by staying in the 95% loan to value Shared Ownership lending market all the way through the pandemic, as it's an area of the market in which we can support first time buyers in particular.
We also introduced our First Homes proposition this year, to make sure we're at the forefront of supporting key workers buying their first home. I was proud that Society members like Laura and Carl (pictured below and who are featured in the Member Magazine ), were the very first people to get their feet on the ladder through the First Homes scheme.
But at the same time, we know times have been tough for many and we've helped our members who have been affected financially by the impact of the pandemic. We waived arrears fees in 2021, and we're continuing to do that as 2022 begins. We also helped borrowers who took mortgage payment deferrals during the pandemic to return to regular repayments.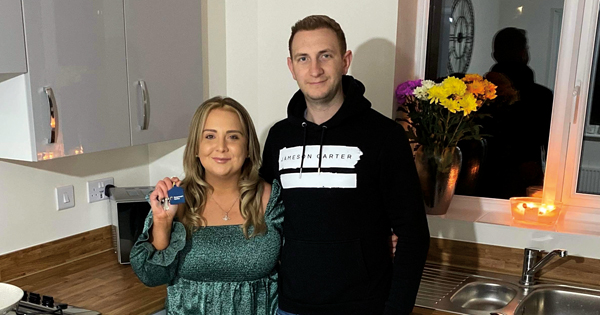 First time buyers Laura and Carl who bought their new home through the First Homes scheme.
And how have we supported savings members?
We know that the current market has been tough for savings members. But I'm pleased that our financial strength meant we could pay above the average market rate to our savers – equating to an extra £71.5 million in our savers' pockets. 1
We also paid the highest average rate of all our peers at mid-year in terms of our savings rates, which was really pleasing.
We've been innovative too, through products like our new Regular Saver. This is a competitive rate with a two-year term, something different to competitors, to help people save for something meaningful. We also launched our Dementia UK bond as well as the Dedicate a Tree children's accounts, which both proved successful.
How did we show leadership on the environment in 2021?
The environment is such an important issue for everyone - I'm proud we're leading the way by taking positive action by reducing our emissions and through our mortgage and savings ranges.
We're focused on reducing our carbon footprint as a business, and we achieved carbon net neutral status ahead of many of our competitors and a year ahead of plan. Moving into our new energy efficient head office was a big step towards this.
We also launched our first green mortgages with preferential deals for members with more energy efficient properties. But more than that, we were the first lender to help customers with less energy efficient homes to offset their carbon footprint during the fixed term of their mortgage. That was across our entire residential 95% loan to value range, and it was an innovative commitment to members.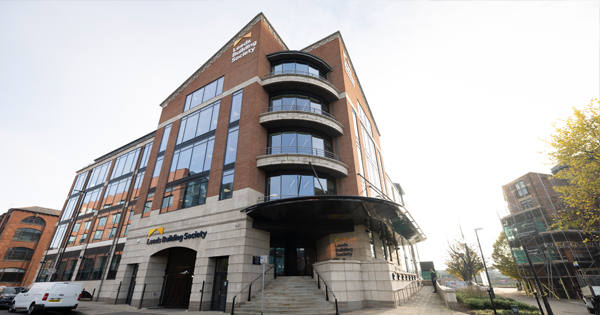 Our new energy efficient head office in Leeds.
Why is it important to you that the Society is a diverse and inclusive organisation?
I grew up in Africa, where I always felt included and positively welcomed. However, there have been times in my life when I've not felt included and it's not a pleasant feeling.
It's important to me that Leeds Building Society is both inclusive and a place where we have diverse talent with unique perspectives, and where we understand and value our diverse members' needs.
There's been some great work done by the various forums across the Society. Recently, we set up a network of diverse aspiring non-executive directors and several of our Board members spent time sharing their experiences with them.. It was really rewarding, and I want to do more of this in 2022.
I want us to be an organisation that's a great place to work, no matter your background, your gender, your sexuality, your ethnicity, your disability or any other difference.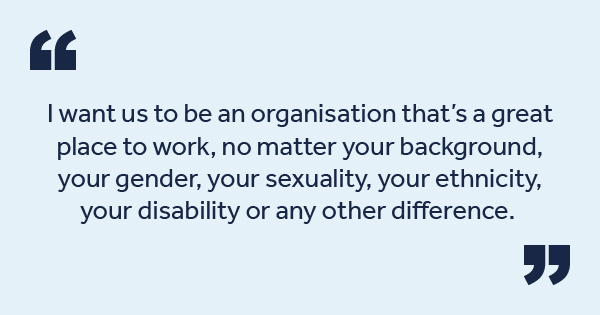 What was your proudest moment of 2021?
There's a lot to be proud of at the Society, but I was absolutely delighted we achieved a 3 Star Best Companies accreditation. It's a fantastic accolade for colleagues in terms of how committed they've been to support our members through some difficult times. If our colleagues are engaged and positive then that means they're better placed to deliver great service, so I'm very proud of that.
What's your message to members about what you want to achieve in 2022?
Many very successful businesses will say they're purpose led. The difference for us is that our purpose is the reason we were founded almost 150 years ago, and we've been living up to that ever since.
We do need to move with the times and make sure it's relevant, so we've renewed how we articulate our purpose. It's something that the original founders would recognise: "Putting home ownership within reach of more people - generation after generation". That's what drives us forward, that's what should focus us in 2022. If we get that right, that will create long-term success for the Society and will benefit all our members.
Finally, what do you enjoy most about your role as CEO of Leeds Building Society?
There are so many aspects of the role I really enjoy, so it's difficult to choose just one! But I love seeing the Society thrive.
As only the 8th CEO in the Society's long history, I know that it's my responsibility to be a custodian for the next generation and to ensure that the Society's strategy sets it up for long-term success and delivers on our purpose. With all we've achieved so far, I believe that's starting to happen.
So, I'd say the best thing for me is just seeing colleagues enthused and engaged about our purpose, working hard to provide brilliant service for our members. That's what I enjoy the most.
Ask a question
You can ask a question ahead of the AGM by:
Email: agm@leedsbuildingsociety.co.uk
Post: Secretary, Leeds Building Society, 26 Sovereign Street, Leeds, LS1 4BJ.
You can also submit a question for the AGM in any of our branches. Members in attendance at the AGM will have the opportunity to ask questions during the meeting, and we'll respond to all other questions directly, including questions received after the AGM. For the quickest response, it's best to email your question.
You can also read a selection of themed frequently asked questions (opens in a new tab) before you vote.
1 Based on CACI's CSDB, Stock, December 2020 to November 2021. CACI is an independent company that provides financial benchmarking data for the retail cash savings market.