Shining a spotlight: Rogue Traders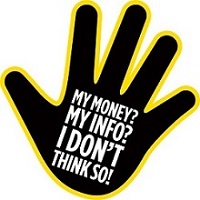 Welcome back! You might've already seen it's our annual Financial Crime Awareness Week for colleagues at the moment. And because we're busy talking all things fraud across the business, we're also sharing some tips with our members too.
Earlier in the week we put the spotlight on investment scams, and today it's rogue traders...
So what is a rogue trader? How can you protect yourself? And what should you do if you've been approached by a rogue trader?
What is a rogue trader?
This scam involves fraudsters posing as sales professionals or labourers offering their services for a fee e.g. window replacements or home repairs. Once you've handed money over or given your account details for payment, they'll never show up to do the work, do a very bad job of it and/or bill you for work you never agreed to.
It's part of a bigger type of 'door-to-door' fraud, also known as door step crimes, where the fraudster makes contact by knocking on your door and pressuring you to handover money. So as well as rogue traders, you might also see these types of scams with:
Fake charity collectors
Phony consumer surveys
People falsely claiming to be from your utility company
Or someone just asking for your help, e.g. to use your telephone or claiming they feel unwell.
Be sure you know who you're dealing with and never agree to anything just to get rid of a seller – you don't have to buy anything you don't want to.
How can you spot a rogue trader specifically?
It'll be an unexpected and unplanned visit to your home.
You might feel under pressure to make a decision. Their behaviour can sometimes feel threatening or bully-like.
However they could also be polite and calm, to try and build a relationship with you. So it's ok to be on your guard, even if they're friendly.
They'll create a feeling of urgency, like saying the work needs doing immediately because the damage to your home is significant.
You won't get any kind of 'cooling off' period, where you could have a think about whether you really want the work doing.
The fraudster will ask for the money upfront, and sometimes in full.
An example…
An unexpected cold caller turned up on one of our member's doorsteps, advising them that they could apply for financial support to have some home improvements done.
The work was completed but the 'trader' then said the member couldn't get the funding promised, so they'd have to pay themselves. They had to get a personal loan to cover the cost.
The cold caller escorted the member to the branch to withdraw the money - a cheque for thousands of pounds payable to the 'traders' company. After our Financial Crime Prevention Team liaised with Trading Standards, they found out the company who the cheque was paid to was already being investigated. In fact, they had an upcoming trial set for conspiracy to defraud.
It'd be easy to read the scenario above and think "that wouldn't happen to me". But unfortunately fraudsters are smart and confident people, and they're always thinking of new ways to scam people. So it really can happen to anyone.
What can you do to protect yourself?
Firstly, and this applies to any kind of scam, there are three simple rules to remember:
Stop – always take a moment to stop and think before parting with your money.
Challenge – it's okay to reject, refuse or ignore any requests. Only criminals will try to rush or panic you.
Protect – contact your bank or building society immediately if you think you've been scammed, and report it to Action Fraud.
When it comes to rogue traders specifically, there's a few other things you'll want to do.
Always take your time. Don't feel pressured into a deal straight away. You'll want to shop around and get a few quotes to compare.
Have they got any ID to verify who they are and who they work for?
Get them to provide references from previous customers and ask to see examples of their previous work.
Check they're a legitimate trader. Do they have a permanent business address and landline telephone number?
Are they qualified to do the work? For instance, they shouldn't be working with gas appliances if they're not gas safe registered.
Ask around. Rather than using a stranger, your friends and family might have someone trusted they can recommend instead. Someone who's already done good work for them.
Don't let them in your home. You could put yourself at risk of burglary as some rogue traders may use the opportunity to take note of your valuables, or your home security measures.
Never let them escort you to your bank or building society to withdraw the money.
Be confident. Don't feel embarrassed or concerned about turning someone away.
If you decide to go ahead with work offered by a door-to-door salesperson, remember to:
Formalise your agreement in writing.
Use the 'cooling off' period to your advantage. Make sure you know how many days you have to change your mind, and act fast if you decide to.
Never pay until the works been done. And at that point, only pay if you're happy with the quality and if it's what you agreed in your contract.
How to report a rogue trader
If you've been a victim of a scam, there's a couple of things you'll need to do:
Report it to your bank or building society. If that's us, please get in touch (Monday to Friday 8am-8pm, Saturday 9am-5pm).
Report it to Action Fraud, the UK's national reporting centre for fraud and cybercrime, via their online form or by giving them a call on 0300 123 2040 (Monday to Friday 8am-8pm).
Never feel embarrassed about reporting your experience either. Like we said, this really can happen to anyone. So the more people report scams, the more information there is to track these people down.

If you want to read more about other common scams, and get some more quick tips on how to keep yourself safe, take a look at our fraud guides.